Imagine a lamp that's powered on by a gravitational pull.
This is what the award-winning Heng Balance Lamp is all about. The two round cores at its center turn on the light when levitating in mid-air. When you bring the 2 round cores together, they will remain suspended and the lighting element embedded in the frame will light up. Combined with it's simple, curved appearance, this innovative lamp elevates the atmosphere of any home or office.
Pushing the boundaries of traditional design, the Heng Balance Lamp is a minimalist, eye catching lamp with a twist. This clever light source is controlled by two magnetic spheres that remain suspended in mid-air and switching on the light. A fusion of structural design and illumination, this innovative lamp elevates the atmosphere of any home or office.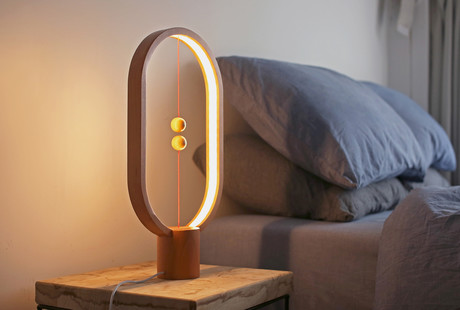 Within the warm, wood frame of this pleasingly minimalist lamp is a surprising way to illuminate it. When you lift the lower ball attached to a cord, it attracts to the top one—thanks to the embedded magnets inside—creating a connection that switches on the lamp's LED light. Separating them turns off the light. The attractive curved design creates the illusion of light passing through the wooden structure. USB plug.
Why We Chose This For Deals Hive
Designer Zanwen Li's lamp ("Heng" means "balance" in Chinese) combines innovative technology with traditional craftsmanship. The magnetic mid-air switch and the warm, natural wood come together to create soft, soothing illumination.
Product Details
Materials : Wood
Measurements  : 7.88″L x 2.75″W x 15.80″H
— USB Powered, Use an Adapter with A Maximum Output of 5V
— Light Color: Warm White
— Light: 1 LED strip, 3500k
— Brightness: 300LM
— LED Lifespan: 55000 Hours
— Plug Type: USB
— Cable Length: 3ft
— Output: 5V/1A
— Magnet: Neodymium